There's a fast, simple way to transform a mundane gift into something poignant — something that the recipient will treasure forever. By simply adding an engraving, a gift becomes more personalised, more valued, more meaningful. But what are the most meaningful engraving quotes for specific occasions? The best and most meaningful engraving quote will be the one that fits both the occasion and the gift's recipient. And you have so many options to choose from when searching for engraving ideas. To help you make the right selection, here's a look at the most meaningful engraving quotes for the different types of people in your life on different occasions.
And, if you're looking for personalised engraved gifts, we offer an array of items to choose from at The Fifth Design — each customisable with an engraving. Choose a beautiful and unique cheese board, chopping board, or serving tray from our selection — and then use the engraving ideas below for inspiration.
Best Engraving Quotes for Weddings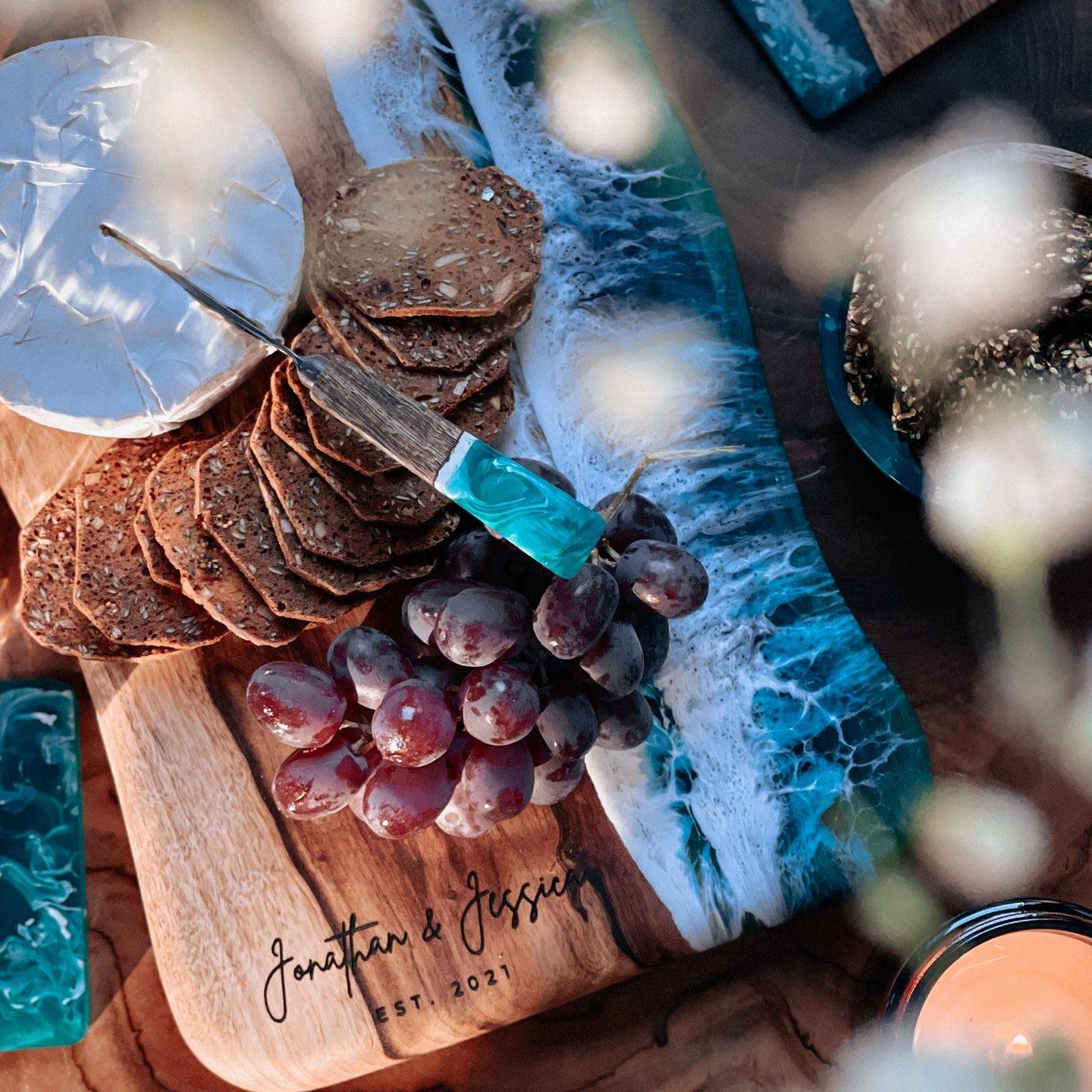 Weddings are perhaps the No. 1 occasion that calls for a personalised engraving. There are several traditional engraving options that can be added to a gift to make it more meaningful. For example, friends and family often add the wedding date, the bride and groom's names, or even the bride and groom's initials to gifts to make them feel more customised.
But there are many other engraving options when customising engraved wedding gifts for bride and groom. Friends and family can also add a short, wedding-appropriate quote, something like:
Always and forever. (Or simply "Forever.")
To have and to hold.
Happily ever after.
Written in the stars.
But the greatest of these is love.
Longitude and Latitude
(Simply their names with the date underneath)
Best Engraving Quotes for Wedding Gifts For Your Bride or Groom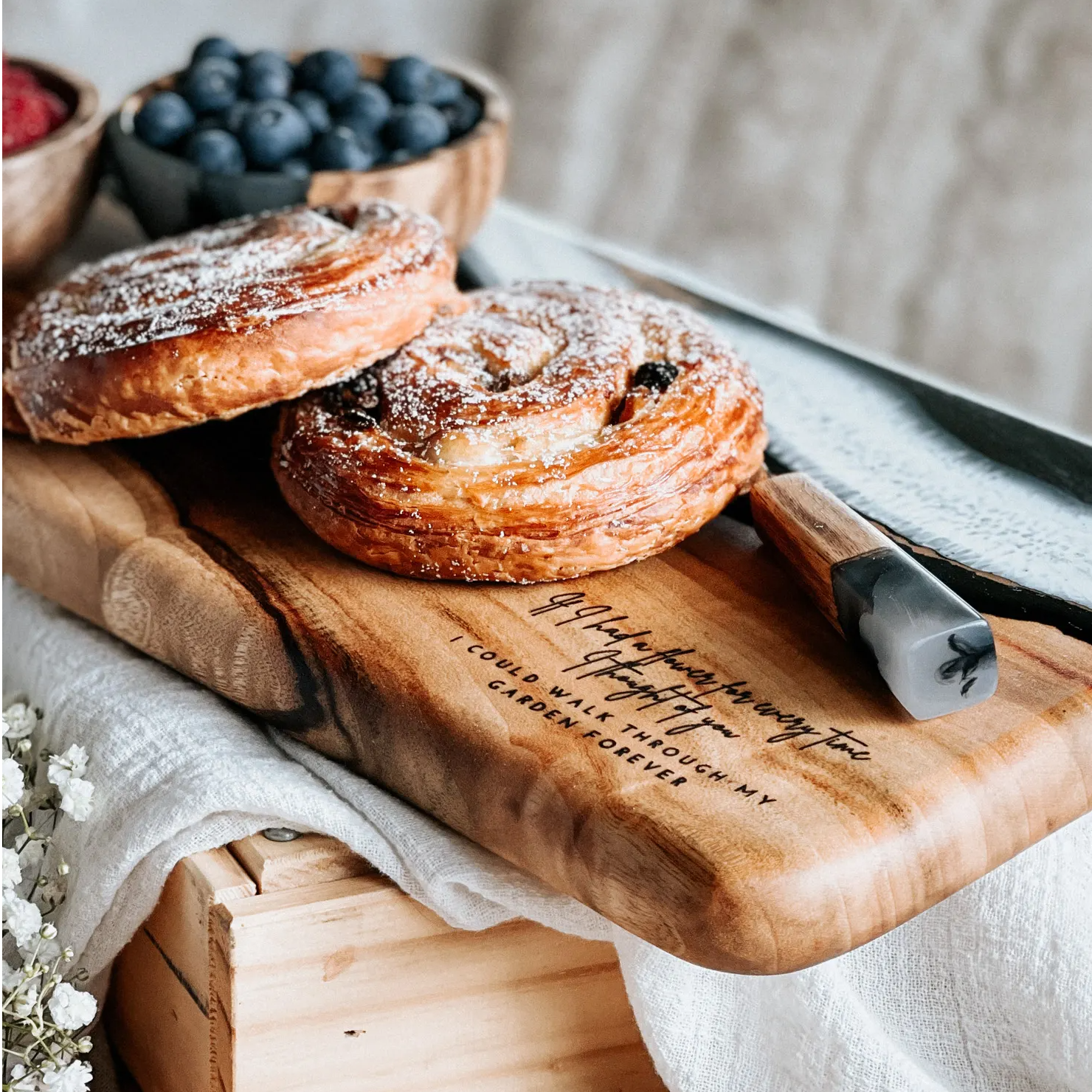 If you're a groom-to-be customising a gift for your bride-to-be (or vice versa), you can choose from among meaningful engraving quotes that are just a little more personal, something like:
If I had a flower for everytime I thought of you, I could walk through my garden forever
I love you for all that you are, all that you have been and all that you will be
I love you.
I'll always love you.
You are my soul mate.
You are my person.
My heart is yours.
I do.
Home is wherever you are.
To the moon and back.
My one and only.
In Love with My Best Friend
All That I am I Owe To You
Don't be constrained by the quotes above — the ones that can be applied to almost any relationship. You can also choose to engrave a message related to an inside joke or something that you and your loved one often say to one another. Customising a gift with a quote or saying that only the two of you know makes the gift much more personal and meaningful.
Best Engraving Quotes for Anniversaries and Valentine's Day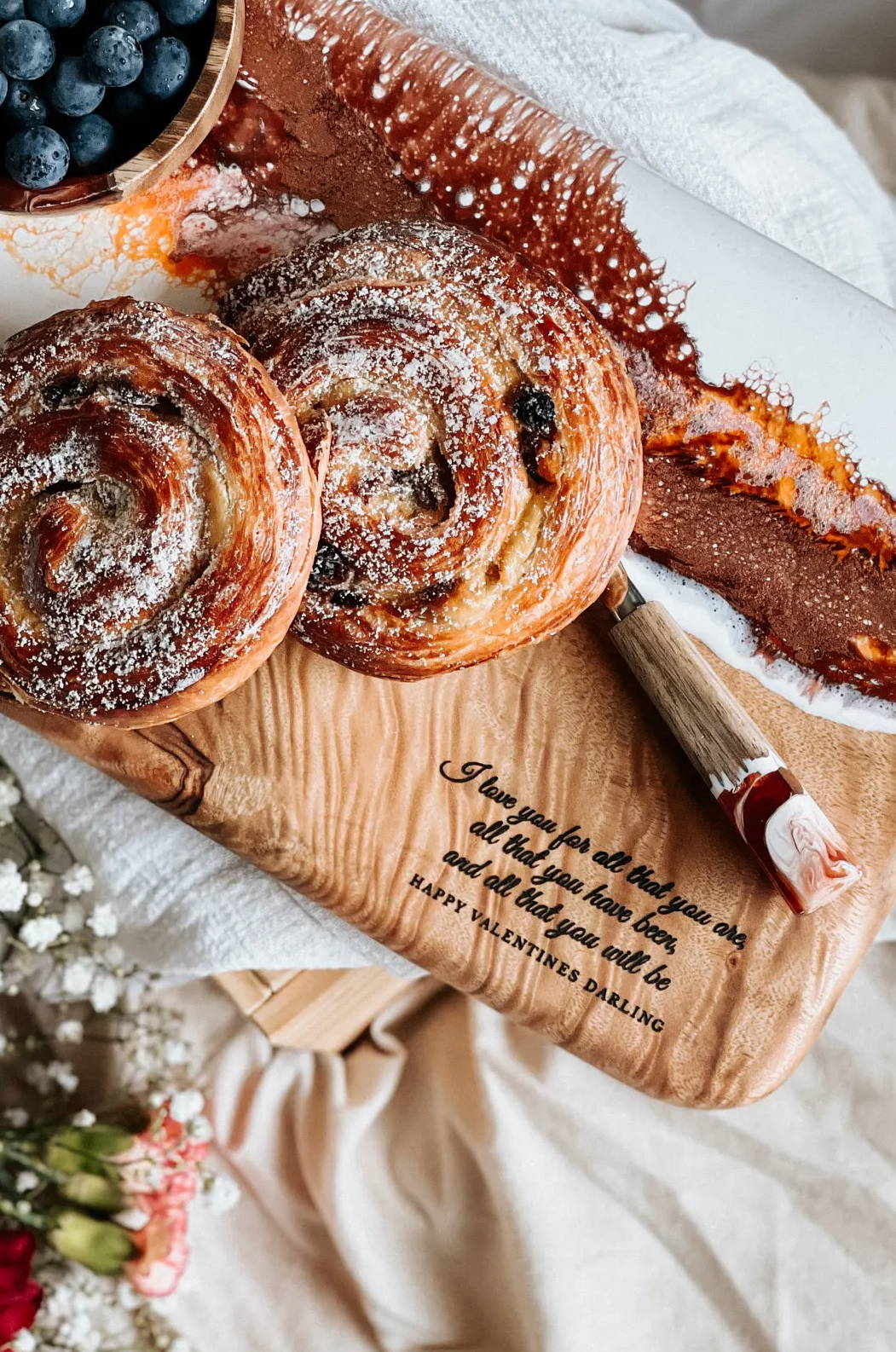 Customisable gifts are also ideal for wedding anniversaries. Whether a single year or multiple decades had passed since the moment when you said, "I do," choosing the perfect option from among meaningful engraving quotes can enhance a gift, transforming it into a forever-and-always keepsake.
If you're looking for the perfect quote or saying to include on an upcoming anniversary gift, consider the following:
I love you for all that you are, all that you have been and all that you will be (in above photo)
If I had a flower for everytime I thought of you, I could walk through my garden forever
The best is yet to come.
Love means forever.
Always and forever.
You're still the one.
Forever yours.
For all time.
Life partner.
Let's grow old together.
I thank God for you every day.
Our love is timeless.
I love every moment with you.
Time flies when you're having fun.
Love conquers all.
Each day is a gift.
Of course, you can also choose to include a date range as an engraving, marking the date of your wedding and the date of your anniversary. As noted above, you can choose instead to engrave a quote or saying that's common in your marriage — something that sums up the years that have passed since your big day. And that's the best part about custom engravings — they can truly be whatever you want them to be.
Best Engraving Quotes for Mums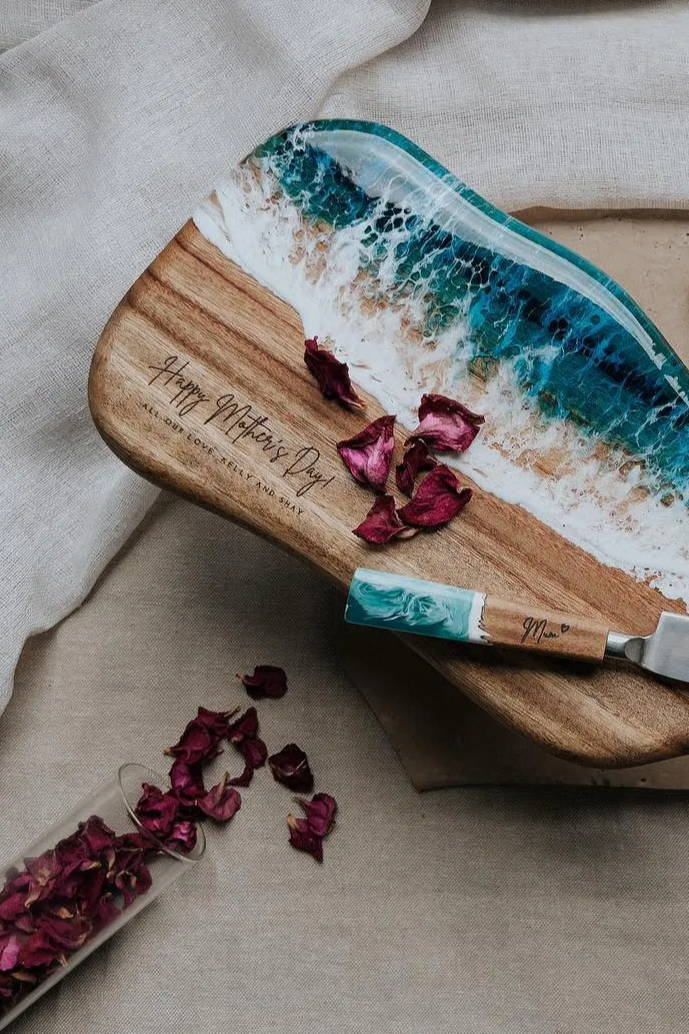 We love our moms, right? And there are multiple opportunities throughout the year to tell our moms just how special they are and just how much they mean to our lives. If you're looking for the perfect gift for Mother's Day or for your mom's birthday, choose the perfect option from among engraved gift ideas. When you find the right gift, consider the following engravings:
All That I am, I owe to you
Best mom ever.
You inspire me.
Thank you for loving me.
Thanks, mom.
A mother is everything.
World's best mom.
Super mom.
Thank you for believing in me.
You inspire me.
Love you to the moon and back
Couldn't do it without you mum
Home is where Mom is
The best part of my day, is talking to you
Best Engraving Quotes for Dads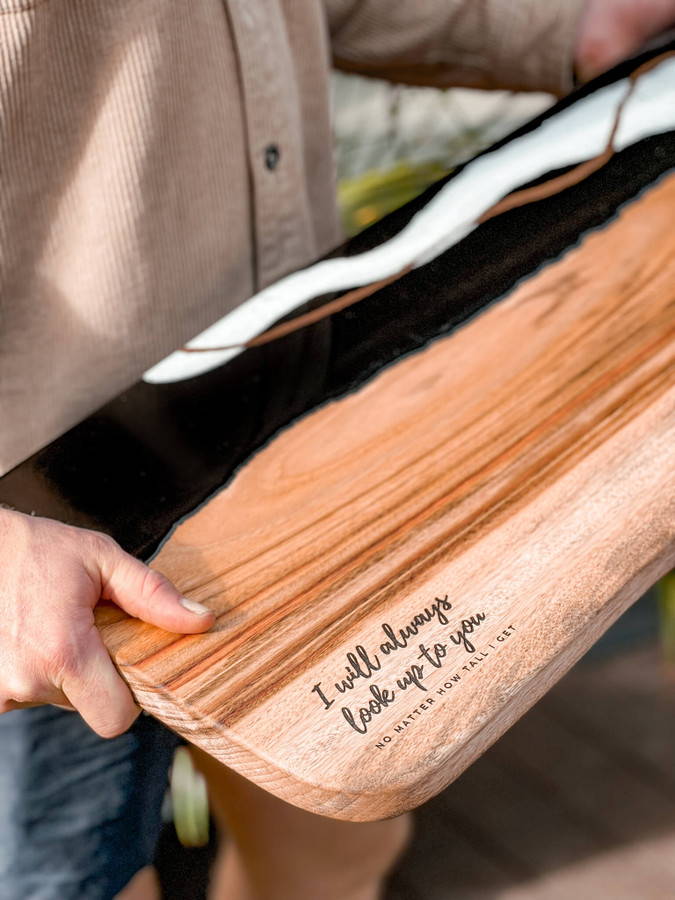 Engraving quotes on a gift is a great way to remind your dad of how much you appreciate him. If you can't think of the words, read our best quote ideas below.
All That I am, I owe to you
I will always look up to you, no matter how tall I get
The man, the myth, the legend, Dad
Dad, My First Hero
Dad, Thank You
Dad, Love You Always
(Insert dad's Name Here), The Best Dad Ever
Dad, when you didn't have my hand, you had my back
Always your little boy/girl
Best Engraving Quotes for Friends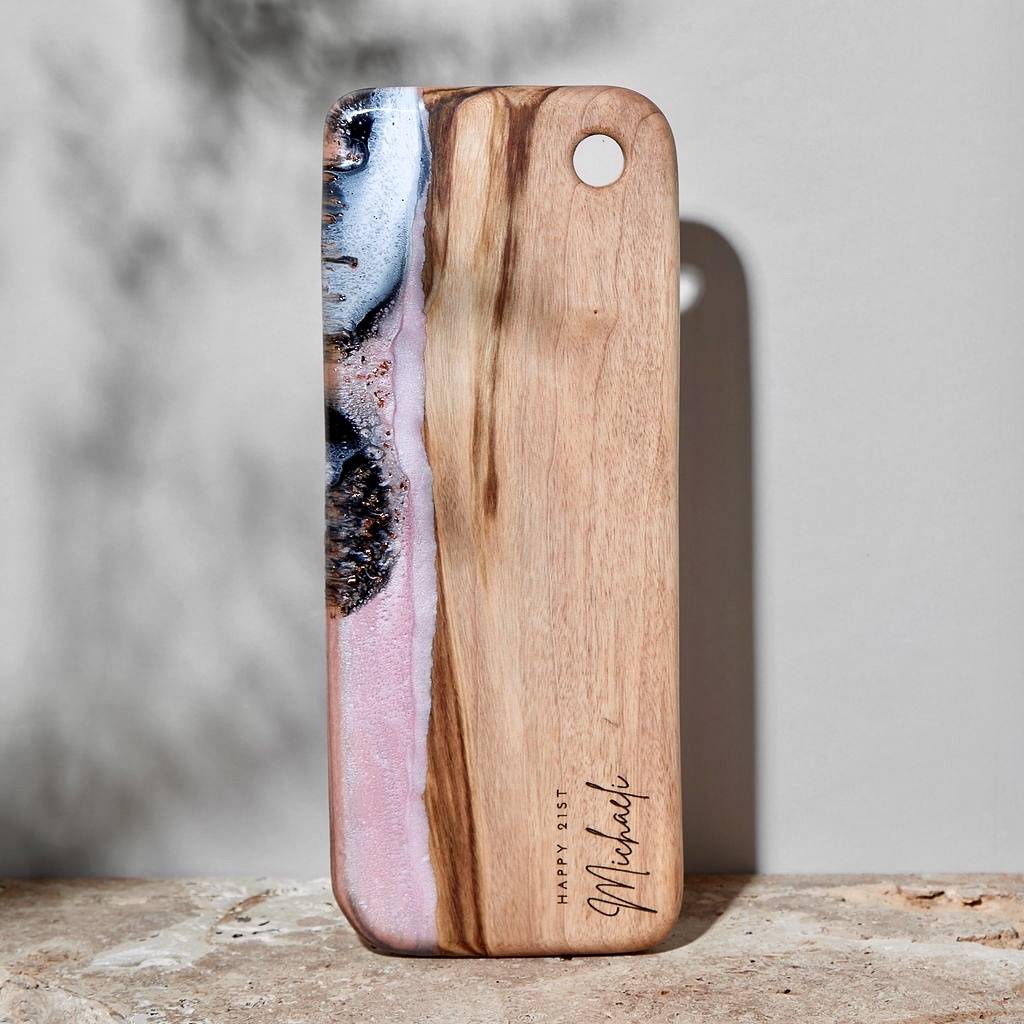 Just like engraved gift ideas are perfect for weddings and anniversaries, as well as for special loved ones like mothers, they can be ideal for friends, too. This is especially true when landmark birthdays or other unique occasions come around.
Imagine for a moment you have a close friend who is turning 30 or 40 or 50 or a close friend who has accomplished something important or experienced something meaningful. An engraved gift can help mark the occasion — if you include the right quote or saying. Here are a few friend-specific one-liners you can consider when searching among meaningful engraving quotes:
You deserve all the cheese
Age only matters if you are cheese
Friends forever.
Best friends.
Partners in crime.
You know me best.
Best friends for life.
More than friends.
Friends always have inside jokes and common sayings that are specific to their relationships. You can always choose to incorporate one of these jokes or sayings into an engraving that really captures the essence of your relationship — and that conveys your love and affection for a close friend who has played an essential role in your life.
Best Engraving Quotes for Thanks
Friends, family members, spouses, and other loved ones often search for gifts as a way of saying "thanks." The challenge is that it's often hard to find a gift that hits just the right note. When you choose a customisable gift and the right engraving, the task of expressing your gratitude becomes that much easier.
Are you searching for the right quote to express your thanks in an engraving? Here are just a few of the options you can consider:
Words can't express.
Words are not enough.
A small token of thanks.
Many thanks.
Forever in your debt.
My gratitude.
I'll never forget.
When in doubt or when you want to keep things exceedingly simple, you can always choose this two-word engraving: "Thank you." After all, those two words cut right to the heart of what you're trying to express in the first place.
Best Engraving Quotes for Sisters
Few relationships are so unique and special in life as those between sisters. Engraved gift ideas are often perfectly suited to the sister-sister relationship. Are you looking for a special way to say "I love you" or "you mean the world to me" to a sister on her birthday or another special occasion? Consider these two sister-specific quotes:
Sisters by chance, friends by choice.
In the cookies of life, sisters are the chocolate chips.
Of course, as with many of the occasions and relationships listed above, sisters often have inside jokes and sayings that only they would understand. You can have some fun with engraved gift ideas by including one of these sayings or quotes.
Best Engraving Quotes for Congratulations
A promotion at work, graduation from school, the completion of some other challenging endeavor — each is a chance to say "congratulations" to a loved one. When you've found an engravable gift, and you need the perfect quote, choose from among these options:
A job well done.
You did it.
So proud of you.
Never a doubt.
Looking to keep it simple? There's nothing wrong with simply saying "congratulations" on your engraving.
Best Quotes for Inspiration
Engravings can also be more inspirational than personal. It's not uncommon to include a quote from a historical figure or well-known literature. You may have in mind a famous quote that holds special meaning for your life or the life of a loved one. If you don't have a quote in mind, here are just a few options you can consider:
Be the change. (Often attributed to Gandhi.)
Live the life you imagined. (Part of a Thoreau passage that also says, "Go confidently in the direction of your dreams.")
Boldness be my friend. (From Shakespeare's Cymbeline.)
Live the moment.
The best is yet to come.
Follow your heart.
There's no shortage of inspirational, motivational, and otherwise famous quotes you can include as an engraving. Find the message that you love when purchasing an engravable gift for yourself, or find the message that perfectly fits your loved one and your relationship when buying for someone else.
Engraved Gifts From The Fifth Design
At The Fifth Design, we believe that gifts can be beautiful, artistic, unique, helpful, and sustainable. That's why we offer a range of handmade items that include cheese boards, chopping boards, and serving trays, as well as gift boxes. Each can be customised with the engraving of your choice. Because your engraved cheese board or engraved chopping board is 100% handmade, you're choosing a unique gift with each purchase. As an added benefit, enjoy free shipping on all orders within Australia.
Are you searching for the perfect option from among engraved gift ideas? Start shopping now in our selection, and then customise your gift using the meaningful engraving quotes shared above.